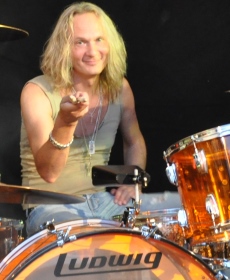 Biography
Tommy Wagner was born in Munich, Germany and started playing drums at the age of 11.
He studied Dante Agostini's Drumming School while being influenced by late 70s/early 80s hard rock and his favourite drummers Ian Paice and Nigel Glockler.
Besides playing with local bands his hard-driving style soon got him high profile gigs for international bands as Bonfire (GER) and Glasstiger (CAN) in the late 80s, which set the course for Tommy's ongoing reputation as one of the hardest hitters around.
In addition to playing drums Tommy released a couple of albums of his own music in the 90s and 00s as a singer and songwriter, touring as support of Gary Moore, Leningrad Cowboys and others.

In 2014 Tommy toured Europe with glam-metal band Shameless (GER/USA). 2015 led him across England on drums for Cherie Currie (voice of The Runaways/USA) and continued touring with her in 2016 in Australia and New Zealand. Tommy is featured on drums and vocals on Cherie Currie's latest album "Midnight Music in London".
2017/18 Tommy toured with german punkrock-legends LustfingeR - New album and tour in 2019!